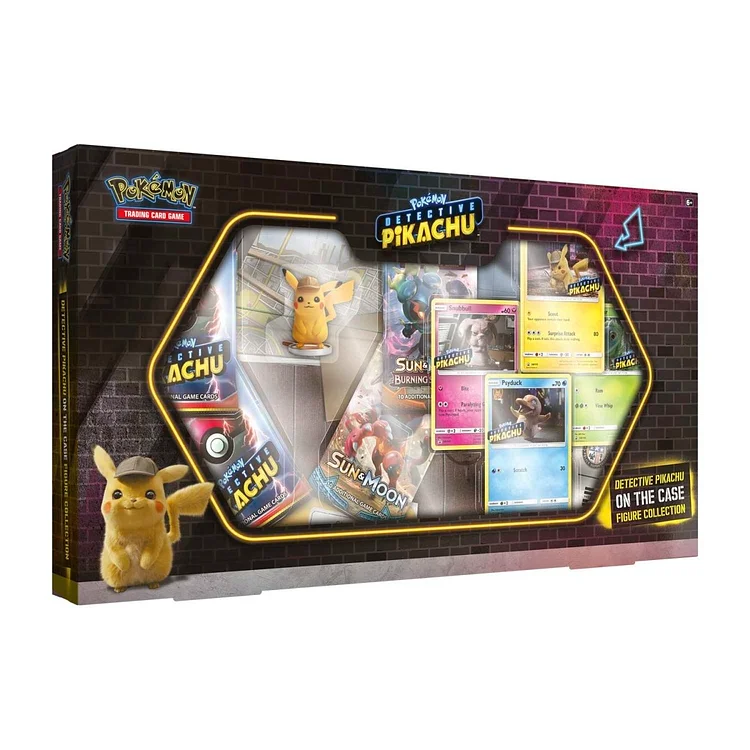 Nothing Escapes This Lightning Eye!
Detective Pikachu has a nose for clues, for a mystery, for things other detectives might miss! Get your own sculpted Detective Pikachu figure featuring the famous Pokémon in a classic sleuthing cap, standing atop an enormous magnifying glass! This collection also includes a roundup of promo cards featuring the famous detective and friends, in addition to a trio of special Detective Pikachu booster packs to crack open—see what other Pokémon you can find!
The Pokémon TCG: Detective Pikachu On the Case Figure Collection includes:
4 foil promo cards featuring Detective Pikachu plus Psyduck, Bulbasaur, and Snubbull!
1 beautifully sculpted Detective Pikachu figure, standing on a magnifying glass!
3 Pokémon TCG: Detective Pikachu booster packs, each containing 4 cards
2 additional Pokémon TCG booster packs, each containing 10 cards and 1 basic Energy
A code card for the Pokémon TCG Online
Cards vary by pack. Booster packaging may vary by product.