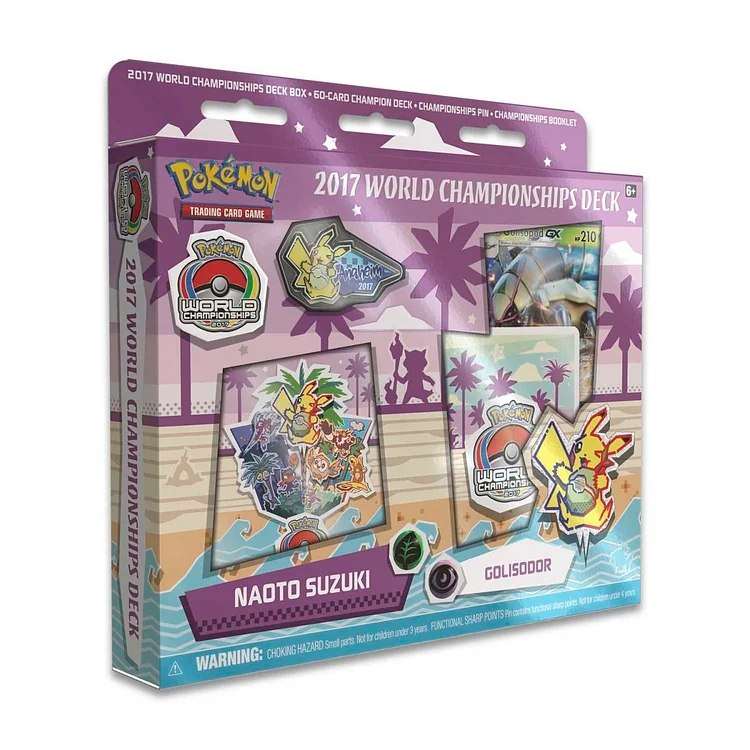 Play Like a Champion!
Grab a World Championships deck and play like a champion! Choose Naoto Suzuki's powerful Golisodor deck, a card-for-card replica of this finalist's deck from the 2017 Pokémon Trading Card Game World Championships!
Each 2017 Pokémon TCG World Championships Deck includes:
60-card Champion Deck
2017 World Championships booklet
Special 2017 World Championships pin
2017 World Championships deck box
Note: This deck features a limited-edition card back. These cards are not tournament legal.
About the Deck
Naoto Suzuki combined the new Golisopod-GX with the already-popular Garbodor (both the Trashalanche and Garbotoxin versions) to reach the Masters Division finals! With the help of Float Stones and new Supporter cards Guzma and Acerola, this deck can keep switching Golisopod-GX into the Active spot—and unleash 120 damage for a single Grass Energy with its First Impression attack. Later in the game, after the opponent has played enough Item cards, Garbodor can finish things off with a massive Trashalanche!