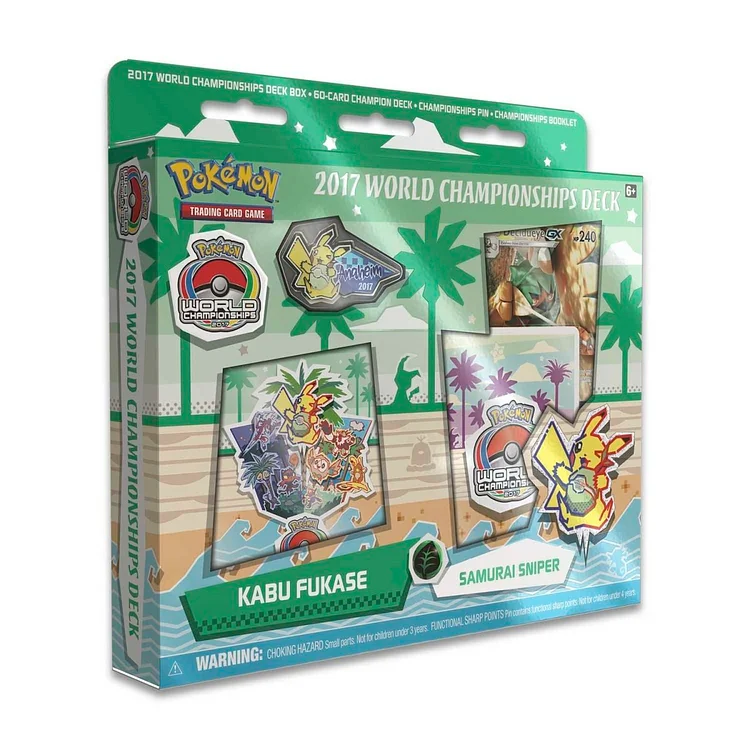 Play Like a Champion!
Grab a World Championships deck and play like a champion! Choose Kabu Fukase's powerful Samurai Sniper deck, a card-for-card replica of this finalist's deck from the 2017 Pokémon Trading Card Game World Championships!
Each 2017 Pokémon TCG World Championships Deck includes:
60-card Champion deck
2017 World Championships booklet
Special 2017 World Championships pin
2017 World Championships deck box
Note: This deck features a limited-edition card back. These cards are not tournament legal.
About the Deck
The popular Decidueye-GX deck got one last hurrah at Worlds before the essential Forest of Giant Plants rotated out, and Kabu Fukase gave it the best showing, with a Top 4 in the Junior Division! The addition of Golisopod-GX gives this Ability-focused deck a powerful attacker for the Active spot, while Decidueye-GX can keep to the shadows of the Bench and pick off the opposing team with Feather Arrow!